It started as research for Eating the Opponent, Atlanta. Then it blossomed. Courtesy of my dear husband and the Internet, I give you: Cheeseheads Breaking All the (Tailgating) Rules.
The following pictures may help illustrate what not to do and may raise relevant questions:
The marked parking spaces are for vehicles only. Fans cannot use parking spaces for tents, grills, chairs or other items. (Would a rock band using the top of a Cheesehead Camper as a stage be okay?)
Tailgating is allowed at the Georgia Dome in the Yellow Lot or Lot A, known as "The Gulch." Tailgate tents cannot exceed 8-by-10 feet. (If a bar 3 blocks away erects a temporary pole building, would that be ok?)
All vehicles require a valid parking permit. (But what if it's an away game?)
Tailgating may not interfere with vehicles driving through the lot. (Would it be ok if I set out orange cones?)
Tailgating equipment (grills, coolers and electronics) may not extend beyond the parking space. (We're trying Mr. Tailgate rule guy. Would you like a brat?)
Loud amplified music or noise is prohibited in any Georgia Dome lots. (It's not amplified and it's not noise.)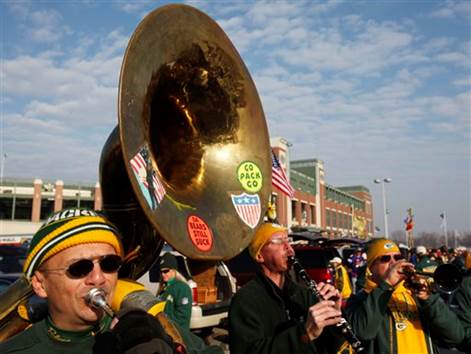 Tailgating may not extend beyond the parking space.
Take that, Atlanta. Up here in Green Bay Packer country, we know how to handle tailgating.